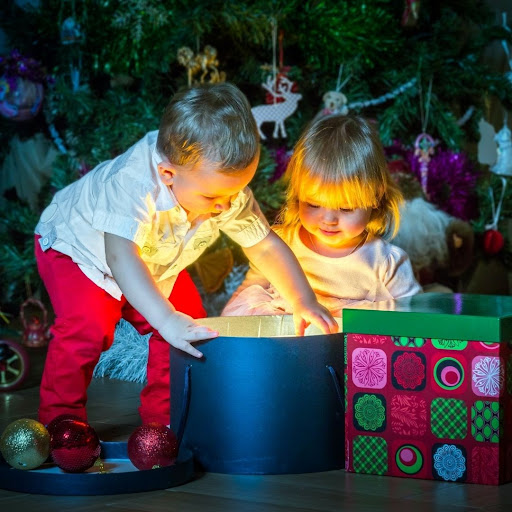 Whether it's the holiday season, or love and generosity, unmerited random acts of kindness, gifting the perfect gift is often dependent on several factors; occasions, budget, need, gratitude or reward … or just for the heck of it!!
This holiday season is upon us and whether you figured out what to give your loved ones or not, check out this guide to give you more insight into the all time favorites and to guide you to offer your little ones the best there is, understanding well that the best gift is that beautiful smile on their faces. What's primarily targeted is the spheres of development of children in early learning.
This one is my all time favorite for curious toddlers. You'll find yourself regretting it when they unlock your well hidden objects, but these wooden lock boards will develop their cognitive abilities and sharpen their fine motor skills by coordinating hand/fingers movements and puzzling processes.

Construction blocks will never grow old or go out of style!! For the youngest, larger blocks are more appropriate and easier to manipulate, but whether you pick hard plastic or wooden blocks, you'll guarantee hours of creative shapes and sizes, and what's more fun than tiering up a tower of blocks as high as your child, only to watch it tumble down piece by piece.
Dolls, babies and teddies!! It has been proven that figurines as well as life size dolls are instrumental in developing your child's social and emotional skills. These toys are beneficial to solidify the child's social skills by learning responsibility, empathy and compassion, in addition to language improvement and wild running imagination and role playing.
The inescapable!!! Books, books and more books!!! Illustrated or not, a book is simply non-perishable, especially in early childhood development. At a very young age and even up to the early teenage years, the illustrations represent a form of artistic language. As your child masters reading skills, the illustrations remain an overall understanding aid as they introduce reading abilities through memory and symbol decoding. With age and progression in reading, you can take those books out again and upcycle them from symbol illumination to reading interpretation.
No matter which region or country you live in, no matter the weather, keep in mind outdoor activities and the major benefits they afford children in early development. Exercising through outdoor play consolidates energy spending and movement coordination combined to cognitive awareness, which are essential in early childhood development.
WINTER : one word "SNOW"
Shoes, skates, skis, block molds, shovels, boards or sleds.
Spring & Fall : share rainy and sunny days alike!
Bouncy balls, bikes, kickboards, balls and frisbees, bowling kits, skipping ropes for outdoors
Board games, craft tools and material for indoors
And of course books, books and some more books!!! Under a tree or a chair, on the couch or the floor, timeless gifts that make you look like "THE" intellectual member of the family!!
Summer : endless days and late evenings fun. Whether your summer days stretch out, in preparation for a sunny destination or for the next summer season, consider all options.
Dry : butterfly nets, gardening tools, chalk, handy bags and baskets to gather flowers and nature specimens on hikes and walks.
Water : Pool noodles, paddling pool, scuba kits, paddles, kickboards, inflatable, ring toss games, water guns, bubble bottles and of course …. books, books, books … and comics!!!
Toddlers essentials!!! Sassy Bibs and Brat Mats from Brass-n-Sassy for worry free and less mess. Cute designs for cool kids and the perfect gift for happy parents.
Don't forget that gifts don't need to be bought, make your own gift, opt for a photo collage .. they're so easy nowadays on social media and different online platforms. Do put more thought into the qualities a child would benefit from physically and intellectually and always remember to have fun for the sake of child's play.
Happy Holidays